QA/Testing Trends – 2014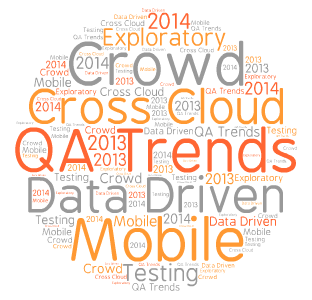 This blog features the main trends in the sphere of software testing of 2013-2014 and gives reasons and explanations for better understanding.
The quality assurance landscape is undergoing a major transformation as QA organizations try to align their goals with the business goals of their companies. QA has a tough balancing act to perform – tackling business risks as well as cost reduction and ROI concerns, while building agility in their organizations to respond to business goals.
This year we will see a paradigm shift in the testing industry. Independent software testing majors will gain momentum as against the conventional IT services majors. Software Testing has emerged into becoming a mainstream activity in Software Development Life Cycle and plays a vital role in production release. Year 2014 and ahead will be a very important year for testing services. A report by the leading industry analyst firm Nelson Hall, suggests that Independent Software testing services is expected to grow by 9.5% year on year till 2018.
Quality Assurance has to be delivered with predictable outcome, speed and in a lowered cost model. To sustain the current pace of changes, there is a demand for comprehensive service portfolio, which can address generic as well as the unique requirements with rapid assessments.
Let's take a look at the following list of software testing trends that testers all over the world are most concerned with lately.
Cross Cloud Testing
In 2013 more and more testers were involved in cross cloud testing of software as not many efforts had been taken to standardize the communication patterns and data formats across multiple cloud platforms before. Standardizing communication patterns among different cloud systems ensures data security and lets developers run software on several clouds simultaneously. In 2014, this trend of testing will surely help testers in a great way.
Crowd Testing
Freelance testers are available at all hours and any place; they can provide you the results almost immediately. Since the testers demand much less salary for their service, this trend significantly thrifts software companies' budget for development. Though being detrimental for quality maintenance, there's no sign that crowd testing is going to cease in the following years. The most remarkable advantage of crowd sourced testing is in dealing with different test users, which will enable your product to be tested on a wide range of platforms and environments.
Data Driven Testing
The advantage of data driven testing is that it provides an opportunity to test the product functionality with several data sets by means of only one script. This approach has already been quite topical in the framework of test automation which is widely executed among the modern-time quality assurance methods.
Agile/Exploratory Testing
As the testers are well acquainted with the benefits of Agile development which is practiced widely, this trend will be of extreme relevance. The method of exploratory testing helps development teams decrease development time and deliver quicker results.
Mobile Application Testing
Mobile application testing is a process by which application software developed for hand held mobile devices is tested for its functionality, usability and consistency. It's no secret that mobile devices are thriving nowadays, forcing developers and testers adapt to the demands of thousands mobile users. However, the greatest challenge for mobile software testing is cross-platform software responsiveness across Android, iOS and Blackberry. Therefore, mobile app testing is mostly concerned in functionality and integration testing.
These are the main quality assurance trends that were popular in 2013 and expected to evolve in 2014 furthermore. On one hand new demands and trends cause new issues that have to be solved, while on the other hand such tendencies demonstrate the importance to involve the whole development team in the testing process as well as allow testers to participate in the product development.
Companies need to invest in Career testers backed by strong skills in open source tools, agile testing models, Performance testing, Security testing, Cloud Testing, Dev-Ops, Social and Big Data testing, Application Performance Monitoring and most importantly Mobile test automation tools. Companies are also learning to cope up with disruptions that are happening due to the advent of young mobile application development people; innovative crowd sourced testing vendors, passionate weekend testing vendors and others.
Organisations have to back the services models by investments in superior cloud enabled testing infrastructure, look at deep R&D that can plug gaps in the current offerings in the existing market tools, while complimenting them.
Given the cost benefits, flexibility and increasing feasibility, Cloud based testing will be the next logical move that will benefit enterprises. Testing as a Service (TaaS) is already a part of the service offerings by Independent Software testing enterprises and major corporations. Since Testing over the Cloud is a critical decision, there will be a demand for impeccable pre-engagement assessments and agreements in the form of a global service delivery model that meets standards compliance, data privacy, and global business protocols. He signs off saying that 2014 will be an exciting year for the independent software testing services companies.
Image Credit bughuntress.com